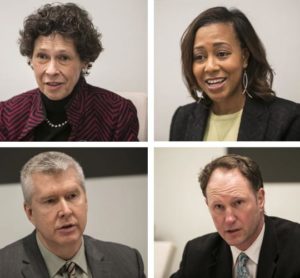 Chicago Sun-Times endorses Cam Davis!
I am happy to announce today that the Chicago Sun-Times has announced that I am one of their endorsed candidates for the Metropolitan Water Reclamation District. Joining Debra Shore, Kari Steele, and Martin Durkan as their endorsed candidates.
From the article:
"Davis has spent more than 30 years working on water issues as a litigating attorney, environmental policy expert, a law professor, president and CEO of the Alliance for the Great Lakes and the Great Lakes point person in the Obama administration. He is setting the goal of making the Chicago area the green infrastructure capital of the world, and he has the background and understanding to help do it.
Davis is running as a write-in candidate for an unexpired two-year term to replace the late MWRD Commissioner Timothy Bradford. Because Bradford died at a point when it was too late for other candidates to get on the ballot, the ballot will say "No candidate." Voters should write in Cam Davis' name."
Read more here.
Paid for and authorized by Cam Davis 4 Us.
Copyright ©2018 Cam Davis 4 Us
A copy of our report filed with the State Board of Elections is (or will be) available on the Board's official website (www.elections.il.gov) or for purchase from the State Board of Elections, Springfield, Illinois.